One Stop Northern Lights Forecast
The Northern Lights season runs from 1st September, through winter, until 15th April, typically. 
To see the Northern Lights with your naked eye, you need: 
Darkness (winter only)
Clear skies (no clouds)
Aurora activity (Northern Lights)
Todays Cloud Coverage and Satellite Images of the Aurora
Here's How To Read The Map
The map is updated daily and gives you an indication of Northern Lights viewing. It's a little confusing as the green colour is very similar to the colour of the actual Northern Lights but in fact the map shows green as cloud coverage and white as clear skies. The white areas are where you need to head for.
On the map you can see areas of white, light green and dark green. The white colour in the forecast means no clouds, so clear sky. This is ideal as you need to have a clear sky to see the Northern Lights. The light green means partly cloudy and dark green means very cloudy so a low chance for sightings as the visibility is low.
Basically if you can see the stars, then you have a chance of seeing the lights.
Why Does Cloud Coverage Matter?
The reason why we want to have the areas without clouds (or light clouds) is because it is impossible to see the lights when the sky is covered with clouds. When it is partly cloudy (light green areas) you still have a chance seeing the lights by finding a gap in the clouds.
How Often is the Map Updated?
The forecast is updated around 6pm daily so it's best to keep a close eye on the forecast before heading out on your hunt.
For more information on viewing the Northern Lights in winter time, please read this article.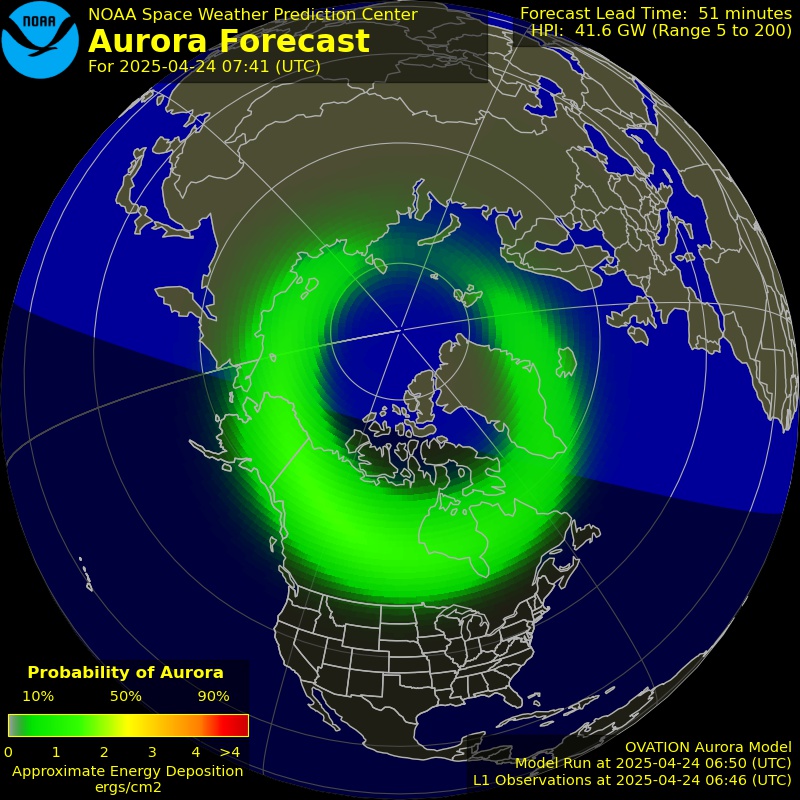 How are the Lights Monitored and Expressed?
Satellites are the main tool for observing and monitoring the sun and particle fluxes heading for Earth. Without these it would be difficult to create a reliable Northern Lights forecast. The National Oceanic and Atmospheric Admin of the USA (NOAA) operates a couple of these, both covering the rear and the front of the Sun. The satellites both generate images and have sensors for observing particle fluxes from the sun. By using these observations we are able to create a Northern Lights forecasts based on numerical simulations and forecast models.